Chiropractic Care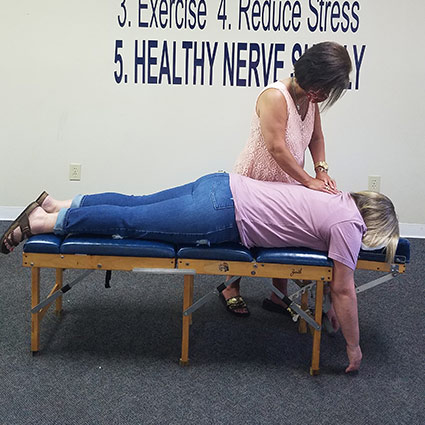 Our brains send signals that travel through our spinal cord and nerves to control all organs, cells, tissues and systems in our body. When there is a misalignment in the spinal column that blocks the flow of that signal, it affects how your body operates. Of course, when everything is in alignment and the flow of communication isn't interrupted, everything in your body can function at a higher level.
As chiropractors, we find out if everything is in its proper position, and if not, bring it back into alignment. At
Ehlich Family Health and Wellness
, we've been helping patients of all ages maximize their health for over 35 years.
Who We Help
Many people come to us for pain relief, and chiropractic care is an excellent natural approach to help with various painful musculoskeletal conditions, such as
However, our emphasis is on education and care to help you create and maintain long-term health and wellness, rather than quick fixes.
Our Techniques
We offer a wide range of chiropractic techniques and other healing therapies to help patients with biomechanical and neurological conditions. Our primary chiropractic adjusting methods are
Activator
CBP®
Craniopathy
Diversified
Gonstead
Logan Basic
Low-force instrument-assisted adjustments for children
Pierce
Sacral Occipital Technique
Thompson
Toggle
Other Services
Massage Therapy:
augments chiropractic care by addressing soft tissue conditions.
Trigger Point Therapy: addresses scar tissue and adhesions from old traumas that may have caused issues for years. An instrument is used to break up the scar tissue, where the muscles connect to the bones. This technique is extremely specific, targeted and scientific in its approach, and often offers life-changing results.
Neurofeedback:
a therapy that helps the brain work more effectively by using technology to "reboot" the brain. It may help with a wide range of neurological issues for patients of all ages.
Nutritional Counseling: eating nutritious foods is a critical component of overall wellness, and we offer nutrition counseling and supplementation.
Book Today
Contact us today to schedule your first appointment.
CONTACT US
---
Chiropractic Care | (864) 489 0008